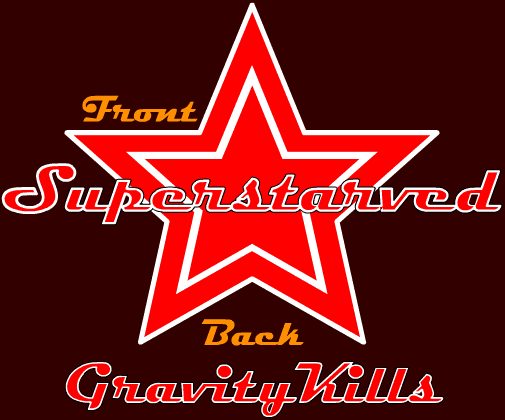 BE THE ENVY OF ALL YOUR FRIENDS AND BE THE FIRST ON YOUR BLOCK TO OWN
A "SUPERSTARVED" SHIRT!
THIS SHIRT IS PRINTED RED AND WHITE (and sparkly)
ON A BLACK T-SHIRT OR BABY-T.

THE FRONT OF THE SHIRT FEATURES THE FIRST
"SUPERSTARVED"
LOGO - A BIG-ASS STAR WITH THE WORD SUPERSTARVED EMBLAZONED
ACCROSS IT IN FUNKY RETRO LETTERING.
THAT SAME LETTERING IS USED ON THE BACK OF THE SHIRT PROCLAIMING
THE NAME OF THE BAND THAT WE ALL KNOW AND LOVE,
"GRAVITY KILLS" .

WE HAVE SIZES:
M - L - XL
IN THE MEN'S TEES


AND WE HAVE SIZES:
S - AND - M
IN THE BABYDOLL TEES


ONLY $20 !
AND SHIPPING IS ONLY $3 IN THE US AND $10 OUTSIDE OF THE US.
FOR YOU MATH WIZARDS, THAT'S A TOTAL OF $23 IN THE USA AND $30 FOR OTHER COUNTRIES.

ALL ORDERS WILL BE TAKEN THROUGH
CHECK / MONEY ORDER OR THE
IF YOU'RE USING PAY PAL, MAKE THE PAYMENT OUT TO:
gkmerch@gravitykills.com
IF YOU HAVEN'T GOTTEN A PAY PAL ACCOUNT
TO ESTABLISH ONE.
THEY'LL GIVE YOU
5 BUCKS
JUST FOR SIGNING UP!
BE SURE TO PUT gkmerch@gravitykills.com
AS THE PERSON WHO REFERRED YOU, 'CAUSE
THAT'LL HELP KEEP THIS AWESOME WEBSITE RUNNING!

MAKE CHECKS / MONEY ORDERS PAYABLE TO GRAVITY KILLS TOURING INC.
AND SEND THEM TO:

GRAVITY KILLS TOURING INC.
P.O. BOX 2184
SAINT LOUIS, MO
63158

PLEASE ALLOW 10+ DAYS FOR PROCESSING AND MAIL DELAYS!